The Giving Common Nonprofit Update – March 2019 Newsletter
Local Sector Events & Opportunities

MNN Greater Boston Regional Meeting 2019
The Boston Foundation is proud to host the 2019 Massachusetts Nonprofit Network Greater Boston Regional Meeting on March 22. MNN meetings bring together nonprofits from all subsectors to network, share best practices and collaborate on issues important to the sector.
This year's regional meeting will feature a presentation and discussion on the reasons why a complete Census count is important for Massachusetts, the challenges facing the 2020 Census in particular and the role that nonprofits can play to help ensure an accurate count. The meeting is free and open for any nonprofit to attend — just be sure to register here.
Marc Freedman's How to Live Forever Book Tour
Join Marc Freedman, founder and CEO of Encore.org, for a Q&A on his new book How to Live Forever: The Enduring Power of Connecting the Generations, on March 21. The book is a deeply personal call to find fulfillment and happiness in our longer lives by connecting with the next generation and forging a legacy of love that lives beyond us. RSVP for the event here.
RELC: Paternalism, Power Hoarding and Individualism
Join Trinity Boston Foundation on March 22, for a Racial Equity Learning Community (RELC) event to continue the journey into Dismantling White Supremacy Culture. This session will focus on Paternalism, Power Hoarding and Individualism. Registration is required for this event.
Boston University's Nonprofit Management and Leadership Certificate
The Nonprofit Management and Leadership Certificate Program (NML) at Boston University's Questrom School of Business offers a community of accomplished peers, award-winning faculty and experienced senior fellows to strengthen critical management and leadership skills. Applications are now being accepted for the 2019-2020 class of talented, innovative nonprofit managers who are eager to learn and make a difference while they work! The priority deadline to apply is March 24.
The Nonprofit Board Summit: Being a Member of a High Impact Board
 

The Harvard Business School Association of Boston Community Action Partners invites you to the Nonprofit Board Member Summit, a half day conference focused on "Being a Member of a High Impact Board." The conference will take place on March 25 at the Federal Reserve Building in Boston. Capacity is limited, so please RSVP.
The Institute for Nonprofit Practice Certificate Programs
The Institute for Nonprofit Practice (INP) is now accepting applications for its award winning Nonprofit Management and Leadership Core Certificate Program and Community Fellows Program! Designed for working professionals, INP's programs result in a credit-bearing certificate from the Institute and the Jonathan M. Tisch College of Civic Life at Tufts University. The deadline to apply to the Community Fellows Program is April 21 and applications for the Core Certificate Program must be received by May 1.
Eighth Annual Boston EdTalks
Please join us for the 2019 Boston EdTalks on May 9. Boston EdTalks, presented by the Boston Foundation, is a celebration during Teacher Appreciation Week showcasing the innovative work of teachers in Greater Boston area schools through a series of presentations.
For a list of presenters and to RSVP, click here.
---
Funding Opportunities

MARCH
The First Nations Development Institute is pleased to announce a 2019 Request for Proposals (RFP) for projects that focus on Native youth and incorporate culture and tradition to address social issues such as drug and alcohol abuse, teen pregnancy, mental health or other social issues. The application deadline is March 12.
The Essex County Community Foundation is inviting grant proposals for the Greater Lawrence Summer Fund, which supports enriching summer opportunities for school-aged children and teens in Greater Lawrence. Applications must be received by March 15.
The New England Grassroots Environment Fund offers competitive grant programs designed to foster local community-based environmental initiatives in New England. The application deadline for this program is March 15.
Requests to the Salem Five Heritage Charitable Foundation's Heritage Grant Program, which supports nonprofit organizations in Salem, Marblehead, Beverly, Peabody and Danvers, will be accepted until March 16.
The Kresge Foundation's Climate Change, Health & Equity initiative is looking to fund projects that advance the adoption and implementation of climate mitigation, climate adaptation and climate resilience policies, as well as programs that improve public health outcomes and drive investments to improve quality of life. Letters of intent must be received by 11:59 p.m. on March 19.
Combined Jewish Philanthropies of Greater Boston invites applications for its Young Adult Community Grants program, which supports programs that bring Jewish young adults (ages 22-45) together to connect with one another and engage with the Jewish tradition and culture. Applications must be received by March 25.
The Boston Planning & Development Agency invites applications for Fenway Community Benefits Grants. Public beautification project that are fully accessible to the public are eligible to apply by the March 26 deadline.
The Greater Worcester Community Foundation is accepting applications for the Fallon/OrNda Community Health Fund, which supports projects that increase access to healthcare or health promotion services that address the social determinants of health. Applications are due by March 29.
The Hanley Family Foundation is accepting applications from organizations whose primary focus is to help individuals to recover from substance use disorder. The application deadline is March 31.
The Junior League is offering grants of up to $2,500 to non-profit agencies in Greater Boston through its Community Assistance Grants program. Applications must be submitted by March 31.
Sun Life's Team Up Against Diabetes grant program invites proposals from charities that focus on diabetes prevention and management, as well as recovery and support from diabetes-related complications. The application deadline is March 31.
APRIL
Bristol County Savings Bank funds needs that contribute to the economic and social well-being of the people and institutions located in the greater Attleboro/Taunton, greater New Bedford, greater Fall River, Massachusetts area and the Pawtucket, Rhode Island area. The 2019 application deadline is April 1.
The Rabbi Abraham Halbfinger and Charlesview Charitable Fund aims to strengthen, deepen, and grow existing resources and relationships benefiting low- and moderate-income individuals and families in Allston-Brighton. Letters of interest must be submitted by April 2 to be considered.
The Amelia Peabody Foundation supports positive learning experiences for materially disadvantaged young people in the cities and towns of Massachusetts. The next application deadline is April 9.
The Herman and Frieda Miller Foundation is accepting applications for the Miller Innovation Fund, which supports innovations, tools, and practices leading to social and economic systems that work for all. Prospective applicants must talk with the Miller Foundation program officers prior to applying by the April 10 deadline.
The Greater Worcester Community Foundation is accepting applications for its Leicester Savings Bank Fund and Fairlawn Foundation Fund, with deadlines of April 12 and April 26, respectively.
The Mifflin Memorial Fund gives grants primarily in the human services and educational areas, focusing on low income and minority populations, as well as to environmental/conservation organizations and occasional grants to cultural organizations for special purposes. Applications will be accepted until April 15.
The Essex County Community Foundation's First Jobs Fund provides funding for first summer employment opportunities at nonprofit organizations for teens from nineteen North Shore communities. Applications for a First Jobs grant or to sponsor a teen must be received no later than 12 pm on April 27.
ROLLING
The Agnes M. Lindsay Trust supports nonprofit organizations that help those in need in the states of Maine, Massachusetts, New Hampshire, and Vermont. Grant-making is currently focused on the areas of health and welfare, as well as dental and oral health.
Belmont Savings Bank Foundation supports not-for-profit groups, institutions, schools and other organizations as a way of adding to the quality of life for people living in the Community in which Belmont Savings Bank serves. Applications are accepted on a rolling basis.
The Biogen Foundation is committed to supporting nonprofit organizations that focus on providing access to hands-on science education, teacher development opportunities in science, college readiness and support, and basic social needs.
The Blue Cross Blue Shield of Massachusetts Foundation's Catalyst Fund supports the efforts of community-based healthcare organizations to strengthen their capacity and expand access to health care in Massachusetts. The fund awards one-year, non-renewable grants of up to $5,000 for capacity-building initiatives and projects.
The Brookline Community Foundation is a resource for organizations seeking immediate funding to support initiatives intended to make the city of Brookline a welcoming and inclusive community where the rights of all community members are upheld and protected.
The Fidelity Foundation supports non-profit organizations making high impact in community and social services; museums, historical, and other cultural organizations; financial literacy and educational institutions.
The Fields Pond Foundation provides grants to community-based nature and land conservation organizations that serve to increase environmental awareness by involving local residents in conservation issues.
The Irene E. & George A. Davis Foundation is a private family foundation established in 1970, dedicated to the promotion of cultural, educational and religious organizations throughout Hampden County. The Foundation continues to make grants in a wide variety of fields.
The Kresge Foundation's Human Services Program supports the advancement of human services to accelerate social and economic mobility in America's cities. The focus is on helping groundbreaking ideas enter the mainstream at the state and national level and encouraging collaboration across multiple sectors. Nonprofit organizations and government entities are eligible to apply throughout the year.
The Schrafft Charitable Trust awards grants to nonprofit organizations involved with the education of disadvantaged youth in the city of Boston. Applications are accepted on a rolling basis.
The Richard and Susan Smith Family Foundation will consider requests for support for transformative capital projects in the $250,000-$3 million range from agencies that are well-led, can point to significant accomplishment, and have a mission that is clearly aligned with that of the Foundation.
The State Street Foundation supports high-performing nonprofits that are providing measurable results in education and workforce development for disadvantaged populations.
Grants of up to $1,000 will be awarded by the TD Charitable Foundation to eligible community-based organizations for employees to attend approved classes/courses that will enhance their job performance.
For 20 years, Third Wave has funded cutting-edge youth-led activism across the United States, and has supported emerging organizations that lack access to philanthropy. The Mobilize Power Fund is a rapid response fund for gender justice activism, action, and community mobilization. Applications are taken year-round and reviewed on the 15th of each month.
The Vela Foundation is a private grant-making foundation dedicated to promoting improved nutrition and wellness.  Vela supports entrepreneurial programs that provide nutrition education and improve access to healthy foods.
---
Events, Webinars & Workshops

Nonprofit Net invites you to learn the common errors and pitfalls nonprofits make in budgeting and financial planning at Nonprofit Finance 101, hosted at the Cary Library in Lexington on March 12.
Introduction to Fundraising Planning – March 13
Recruitment on a Mission: How Nonprofits Can Attract & Retain Today's Talent – March 13
What Is Culture Really and How Can You Use It as a Tool? – March 13
How to Become a Data-Driven Nonprofit Finance Leader – March 14
Get a free sneak peek at Boston University's NML Certificate Program with a classroom visit! Interested students are invited to register for Taste of NML: Communicating Your Organization's Story, on March 19 at the Questrom School of Business.
Introduction to Finding Grants – March 20
Looking to start a social impact venture or nonprofit? Learn about the variety of funding options and strategies with [email protected] on March 21 at Funding Your Social Venture.
Skills for Overcoming Burnout-Refueling the Fire – March 26
Join Philanthropy Massachusetts for Introduction to Grants Research at Harvard Ed Portal on March 27.
Salesforce Admin Webinar – March 27
The MA 401(k) CORE Plan: The Advantages of Multiple Employer Plans (MEP) – March 27
The Social Innovation Forum will be holding a lunch talk at Nutter McClennen & Fish LLP on April 2 on Advancing Equity and Opportunity for Immigrant Families.
Shifting the Narrative to Advance Racial Equity – April 9
Learn all the key steps in How to Launch a Major Gifts Campaign on April 11, hosted by Nonprofit Net at the Cary Library in Lexington.
The Foundation for MetroWest invites you to join them for It's Never Too Early to Plan! Concrete Steps to Grow Your Annual Fund at the Morse Public Library in Natick on April 11.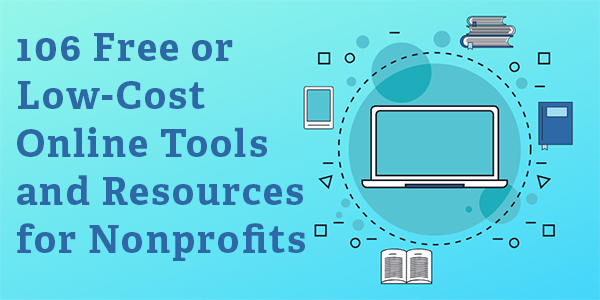 106 Free or Low-Cost Online Tools and Resources for Nonprofits
"The internet is loaded with amazing free or low-cost tools and resources! Provided you set aside the time to explore and experiment, your nonprofit can use the tools listed here to significantly improve your web and email communications and your social media campaigns."
Reminder: Giving Common/Guidestar (Candid) Transfers Temporarily Paused
The Giving Common is temporarily pausing transfers to GuideStar.org profiles. We are working to update the data sharing framework between the two platforms to ensure alignment and create a plan to make one login for both platforms – removing the need for transfers all together.
For now, please be sure to update both platforms separately. Please feel free to reach out with any questions, and thank you for your patience.
---
What We're Reading